Bioclear Posterior Restorations
Bioclear preparations only call for removing unhealthy tooth structure. That means Bioclear restorations will always conserve more of the healthy, original tooth than traditional methods that require the application of crowns, amalgam, or layered composite.
Crowns require dentists to grind away approximately 75% of the tooth to allow space for the crown placement. With Bioclear, dentists can leave most or all of the tooth structure leaving you with a healthier stronger tooth.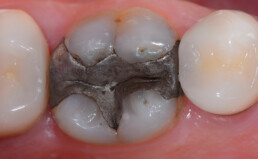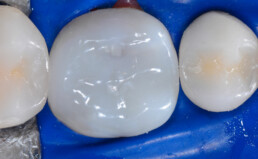 Bioclear Posterior Overlay vs. Root Canal & Crown
---
Patient Concern: Looking for an alternative to a crown and possible root canal
Clinical findings: Incomplete fracture, deep recurrent decay
Treatment: SCR-Selective Caries Removal, Bioclear Posterior Overlay
Bioclear Posterior Overlay vs. Crown
---
Patient Concern: Looking for a crown alternative
Clinical Findings: Existing large silver/amalgam restoration that was fractured with recurrent decay
Treatment: Bioclear Posterior Overlay
Bioclear Posterior Overlay vs. Filling
---
Patient Concern: Broken cusp, decay
Treatment: SCR- Selective Caries Removal, Bioclear Posterior Overlay